The Sugar Land Skeeters are now mobile! Our official app is available on both Apple and Android devices to bring you the latest team news, promotions and more all year long! Click below to download!
APP Tips

The Skeeters mobile app allows you to keep up with everything Skeeters all year long! Check the latest news, player stats, score updates, and earn points to get exclusive app rewards! Our app gives you everything Skeeters in the palm of your hand:
News
Game Schedule / Buy Tickets
Ticket options and information
Promotions and giveaways happening at the ballpark
Team information (stats, standings, roster)
Shop our Team Store
Skeeters Foundation information
Media - watch and listen to Skeeters games live
Constellation Field information (seating diagram, parking, directions)
Mobile App Rewards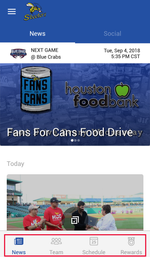 You can find quick access to the latest news, team information, Skeeters schedule, and app rewards at the bottom of your newsfeed screen. Your full app menu can be found by tapping the icon at the top left corner of your screen. Tap the
'Social'
menu at the top of your screen to see the latest social media buzz about the Skeeters!
Notifications
The Skeeters mobile app has a number of different options for push notifications so you can get updates on everything Skeeters. Customize what type of push notifications you'd like to receive in the 'Settings' tab on your main menu.
To receive notifications exclusive to Constellation Field, be sure 'Proximity Services' is turned on in the APP. For IOS users, be sure your location is turned on in your phone's settings. These notifications will only appear on your phone while at Constellation Field and will include store and in-game promos, rewards codes and more!
Skeeters App Rewards Program
The Skeeters app rewards program is available now! Join at Skeeters games and be on the lookout for different codes to earn points you can redeem for a number of different rewards! The more points you earn, the more rewards you can get!

GETTING STARTED

Once you have downloaded the official Sugar Land Skeeters App, open the app and sign in through Facebook or via email. This will create your mobile app profile and will give you exclusive access to earning points and rewards through the app. If you do not have a mobile app profile, you will not be able to earn points or rewards.
HOW TO EARN POINTS
Be on the lookout for different ways to earn points throughout the year! Codes may be hidden in news items on our website, social media posts, announced in PA reads during the game, around the ballpark, and more! Tap the 'My Rewards' tab on your main menu to view your running total points, reward options, and to scan in promotional codes. Type in or scan a promotional code to receive points by tapping the 'Enter/Scan Code' tab on your Rewards page. NOTE: Promotional codes may only be used once per person and are subject to expiration dates (unless otherwise stated). Rewards may only be redeemed by using your own points and cannot be combined with other users' points.

REDEEMING REWARDS

After you have accumulated points, you may redeem them for a number of different rewards. You can check out all the rewards offered and how many points they cost by tapping the 'My Rewards' tab at the top of the Rewards page. Once you have selected your desired reward, it will prompt you to enter the Vendor Code or scan the QR code of your desired reward. Visit the Customer Service desk in the concourse during games or stop by our ticket office on non-game days (Mon-Fri 9am-5pm) and a staff member will scan or enter in a special code to allow you access to your reward. Once this code is entered it will deduct points and you may redeem your reward! NOTE: Rewards may be redeemed as many times as you'd like as long as you have enough points. However, rewards will be updated throughout the year and are subject to change. Not all rewards will be available throughout the season/year.