Skeeters Sign OF Dan Robertson and INF Luke Dykstra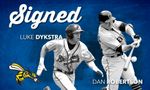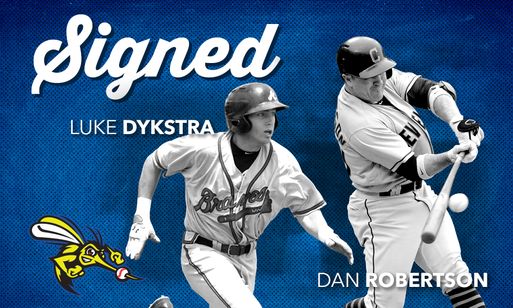 SUGAR LAND, TX— The Sugar Land Skeeters today announced that they've signed former Major League outfielder Dan Robertson, along with infielder Luke Dykstra, son of former Major League All-Star, Lenny Dykstra.

Robertson, 32, is a veteran of four Major League seasons, having appeared with the Texas Rangers (2014), Los Angeles Angels of Anaheim (2015), Seattle Mariners (2016) and Cleveland Indians (2017). Through 148 career games at the Major League level, Robertson has hit .262/.314/.328 with 43 runs scored, 16 doubles, a home run and 36 RBIs. He began the 2018 season in the Arizona Diamondbacks Minor League system and has hit a combined .263/.361/.407 with nine home runs and 47 RBIs in 98 games between the Double-A and Triple-A levels. The San Diego Padres selected Robertson in 33rd round of the 2008 MLB Draft out of Oregon State and he spent seven seasons in the Padres' system before joining the Rangers in 2014. He was selected as the Northwest League Player of the Year in 2008 with Low-A Eugene, and was also selected as a California League All-Star in 2010 with High-A Lake Elsinore and a Pacific Coast League All-Star in 2012 with Triple-A Tuscon.

With the addition of Robertson, the Skeeters have 10 players on their active roster with Major League service time as he joins RHP Austin Adams, RHP Vicente Campos, RHP Jean Machi, C Derek Norris, RHP Felipe Paulino, OF Denis Phipps, LHP Dan Runzler, LHP James Russell and RHP Alex Wimmers.

Dykstra, 22, has spent the 2018 season thus far with Double-A Springfield (STL), hitting .225/.267/.258 with eight RBIs in 49 games. The Atlanta Braves selected Dykstra in the seventh round of the 2014 MLB Draft out of Westlake High School (Westlake Village, Calif.). He's spent three seasons in the Braves' Minor League system (2014-16) and two in the St. Louis Cardinals' system (2017-18, peaking at Double-A. Over 313 career games at the affiliated level, Dykstra has hit .278/.319/.349 with 121 runs scored, 61 doubles, three triples, four home runs and 126 RBIs. He was selected to the South Atlantic League All-Star Game in 2016 while playing with Single-A Rome. Dykstra's father, Lenny, played 12 seasons at the Major League level (1985-96) and was a three-time All-Star, along with being voted a Silver Slugger in 1993. Lenny was also a member of the 1986 New York Mets, who went on to win the World Series.

The Skeeters will continue their Fans For Cans food drive for Wednesday night's game against the Somerset Patriots, which starts at 7:05 p.m. Fans who bring at least five canned food items to Constellation Field will receive a voucher good for free admission to any remaining Wednesday home game this season. All canned food items will be donated to the Houston Food Bank.

Individual tickets are available now at SugarLandSkeeters.com, our mobile app, and at the TDECU Ticket Office at Constellation Field. For more information, call 281-240-4487.

Visit SugarLandSkeeters.com and follow us on Facebook, Instagram and Twitter (@SL_Skeeters) for all the latest news on the team.

Download the official Sugar Land Skeeters app to keep up with the team all year long with news, score updates, stats and more. The free app is available in both the App Store and Google Play.