Become A Host Family
The Skeeters Host Family Program is extremely important to the entire baseball operation. By hosting a player, you give that player a sense of home during the course of a long season.
It is something that has proven to be a very rewarding experience for both players and host families over the course of the league's history. It is also a way to experience the behind-the-scenes environment of what it is like to be a member of our team during the course of a season - an experience that cannot be obtained any other way.
Host families will receive a number of benefits, including:
Tickets (up to 4) upon request for each Skeeters home game
Free parking pass to all Skeeters home games
Invitation to all season ticket holder exclusive events
10% discount in Skeeters Team Store
Season ticket holder cup for $2 off drink refills
Players in the league have always been very appreciative of the willingness of host families to open their homes and, in a way, adopt them into their family. These relationships are often kept long past the time the player lives with their host family.
Certainly, it is a commitment to open one's home for an entire season and it is our goal to assist prospective host families in pairing them with a player in the most comfortable fit for both parties. Host families are more than welcome to set parameters regarding the living environment and expectations that must be met. After all, it is still your home.
Thank you for your interest in being a host family!
For more information, contact Ryan Posner at 281-207-9132 or rposner@sugarlandskeeters.com.
Donation Requests
The Skeeters support in-kind donation requests submitted by qualifying for nonprofit organizations with 501c3 tax status. Requirements and Donation Information:
Proper donation request form must be submitted in order to be considered. Must be a qualifying nonprofit organization to receive a donation. 501c3 form is required upon request.
We cannot provide donations to individuals, appreciation awards, or for employee/customer appreciation raffles or prizes. (Please see Deacon's Dugout Ticket Giveback if you are interested in individual/group recognition or looking to bring your nonprofit group to a game.)
The Skeeters goal is to assist as many groups as possible every year, so donations are limited to one per calendar year per organization and are also limited to the Greater Houston Area.
The Skeeters are unable to make monetary donations or provide sponsorships.
All donations must be picked up at the Sugar Land Skeeters Front Office located at Constellation Field.
Donation requests are usually filled a month out from the event. Requests must be received at least six (6) weeks prior to your event.
Due to the high volume of requests we receive, we are unable to accept phone calls regarding the status of your request; all communication from the Skeeters will come via e-mail. *Denotes Required Fields.
---
Student Athlete of the Month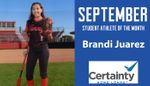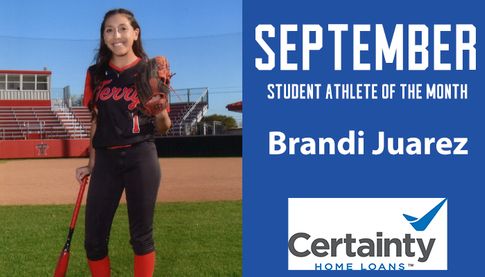 September 2018

Brandi Juarez is an incoming Junior at BF Terry High School in Rosenberg, Texas. She began playing softball and basketball at the age of four. However, she gave up basketball her freshmen year in high school to concentrate more on softball. She was named Athlete of the Year in 2016. Brandi is also a member of the volleyball team at BF Terry High School; however, her first love is softball. She is a team player and always encourages and motivates her teammates. She has excelled at 2nd base for the BF Terry Varsity Softball team since her freshmen year. She and her teammates made history by helping take the BF Terry Lady Rangers Softball Team to the 2nd Round of playoffs this year. She has received numerous awards for softball. In 2017, as a freshmen, she was named to the 27-5A First Team All-District Team infielder, First Team All-Area and Academic All District. This year, as a sophomore, she was awarded the honor of MVP by her softball coaches at BF Terry. She has the distinction of being named the 27-5A Defensive Player of the Year for 2018. She has also been named to the 2018 All-Area First Team and Academic All District. She also plays 2nd base for Texas Strike Force 18U Gold.

Brandi is just as committed to her studies as she is to softball. She is in the top 10% of her class at BF Terry High School. She is a member of River Pointe Church, and in her free time, she volunteers at Lunches of Love.

She will continue her career in softball at the college level. She is verbally committed to play Division 1 softball at Prairie View A&M University. She plans to major in Business Administration.