SKEETERS

BECOME A HOST FAMILY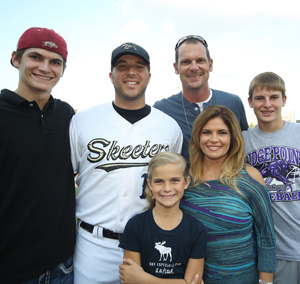 Our host family program is extremely important to the entire baseball operation. By hosting a player, you give that player, who is otherwise many miles away from their home environment and loved ones, a sense of home during the course of a long season. It is something that has proven to be a very rewarding experience for both players and host families alike over the course of the league's history. It is also a way to experience the behind-the-scenes environment of what it is like to be a member of our team during the course of a season, an experience that really cannot be obtained in any other way. Players in the league have always been very appreciative of the willingness of host families to open their homes and in a way, adopt them into their family. These relationships are often maintained long past the time that the player lives with their host family.

Certainly it is a commitment to open one's home for an entire season, and it is our goal to assist prospective host families in pairing them with a player in the most comfortable fit for both parties involved. Host families are more than welcome to set certain parameters regarding the living environment, and certain expectations that must be met. After all, it is still your home.

Again, thank you very much for your interest. Please find the attached application file, and return it to the Skeeters at: hostfamily@SugarLandSkeeters.com or by fax at 281-207-9032.