SKEETERS

COACHING STAFF
GARY GAETTI
Manager

Entering his 30th season associated with professional baseball as either a player or coach, Gaetti is the Sugar Land Skeeters first manager in franchise history. Gaetti began his coaching career in 2002 with the New Orleans Zephyrs.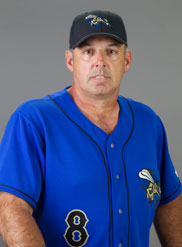 During his Major League career, Gaetti played for six different teams: the Minnesota Twins (1981-90), California Angels (1991-93), Kansas City Royals (1993-95), St. Louis Cardinals (1996-98), Chicago Cubs (1998-99), and Boston Red Sox (2000). The two-time All-Star infielder (1988-89) won four Rawlings Gold Glove Awards (1986-89) and earned a spot on The Sporting News' Silver Slugger Team (1995). In 1987, he was named the American League Championship Series MVP, batting .300 with two home runs and five RBI, as he helped the Twins win their first-ever World Series championship.

Gaetti ranks sixth all-time among third basemen with 360 career home runs, and he is one of 38 players all-time to record 2,200 hits (2,280) and 360 homers. He also moved into the Major League record books on July 17, 1990, when he initiated two triple plays for the Twins vs. Boston at Fenway Park. Following both the 1989 and 1990 seasons, he was named the league's best defensive third baseman by Baseball America.

Gaetti found success in debuts. On Sept. 20, 1981, he became the 47th player to hit a home run in his first Major League at-bat. He also hit two home runs in the first game ever played in the Metrodome (April 6, 1982), and he was the first player ever to hit two home runs in his first two at-bats of postseason play in the 1987 ALCS vs. Detroit. From July, 2004 to July, 2006, Gaetti served as the Astros full-time hitting coach after serving three seasons in Houston's minor league system. Gaetti was Houston's hitting guru when the Astros played for the 2004 National League pennant and in 2005 when the Astros made their first-ever World Series appearance.
Prior to his stint with the parent club, Gaetti coached the Astros' Triple-A New Orleans Zephyrs for three seasons. Gaetti also spent two seasons (2007-08) for Tampa Bay's Triple-A affiliate Durham Bulls.

Gaetti was selected in the first round (11th overall) by the Minnesota Twins in the June 1979 draft. He attended Lake Land Junior College and Northwest Missouri State University, and he was inducted into the NWMSU Hall of Fame in 2003. After making his professional debut in 1979, he earned Double-A All-Star honors in 1981 and finished fifth in AL Rookie of the Year voting in 1982. He played in all 162 games during the 1984 season, missing only eight innings; he batted a career high .301 in the 1988 campaign; his career-high 35 homers came in 1995 while playing with Kansas City; and he helped the Cardinals to the NLCS in 1996.

Born on August 19, 1958, in Centralia, Ill., Gaetti makes his home in Houston.



Jeff Scott

Pitching Coach
Jeff Scott enters his first season with the Sugar Land Skeeters as the pitching coach. Scott spent the 2012 season managing the Camden Riversharks of the Atlantic League. Prior to his stint as manager, he also served as Camden's director of baseball operations and pitchingcoach from 2009-11. Over the course of his career in the Major Leagues, Scott served as scouting director for the Cleveland Indians (1987-88), Detroit Tigers (1994-96) and the St. Louis Cardinals (1999-2001). In 1983, he was also named the director of scouting and player development for the Seattle Mariners.
As a player, Scott spent six seasons pitching in the Texas Rangers farm system (1972-76, '79). Originally selected in the third round of the June 1972 Draft by the Rangers, Scott owns a 36-37 career minor league record with a 3.55 ERA (228ER/578IP) in 93 games (82 starts).

David McDaniel
Coach
McDaniel, joins Sugar Land in his first year as coach following five seasons as an assistant coach with Fort Bend Christian Academy in Texas. Last season, McDaniel helped the FBCA Eagles to the 2013 TAPPS 4A State Championship title while assisting the Skeeters club in an unofficial instructor role. With more than 20 years of coaching and instructor experience in the Houston area, he previously served as a Major League bullpen catcher with the Cleveland Indians (2001), Detroit Tigers (2002) and Texas Rangers (2003-05) organizations. A former Episcopal High School (TX) player, McDaniel played collegiate baseball locally for San Jacinto College and Houston Baptist University before pursuing a professional coaching career.